An unsecured debt loan is a type of loan that does not require a collateral. A borrower can use a line of credit without necessarily needing a personal property lien. However, an unsecured debt loan usually has a rate of interest that is higher than that of a secured loan.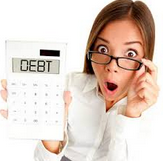 Since there is no use of any asset as collateral, the borrower does not have to produce any property to secure the loan for lender and therefore, the lender does not have any means for a lien on the assets of the borrower if the loan is not repaid as agreed.
With an unsecured debt loan, if the repayments are not made, the lender and the borrower are free to re-negotiate the terms of the repayment. However, with unsecured debt loans the main downside to the borrower is they have higher interest rates than secured debt loans.
One of the advantages of an unsecured debt loan is since there is no property involved in processing the loan, the loan can be approved much faster. This saves time and moves the
loan transaction forward soon as the lender processes the loan with the borrower.
However, for you to get an unsecured debt loan, you must ensure that you are credit worthy since the lender will use your credit history to determine your credibility. This is because of the lender's goal to lend money only to those who show a good indication to pay the loan back.
Therefore, for people who want to borrower but have a bad credit history, using an unsecured loan will be harder to get an application accepted. This, however, does not mean that if you have bad credit you will be denied an unsecured debt loan for sure.
Currently, there are many lenders who are willing to take on risk by lending their money to people that have bad credit. To these creditors, bad credit is not the only indicator of credibility.
Another advantage of an unsecured debt loan is that you have the ability of consolidating all your debts into one easy monthly payment. If you want to apply for this type of loan, you must have verifiable employment and a good credit score.
Your debt should also be low when compared to your income ratio. Most people that have debts choose companies that consolidate debt because they provide unsecured debt loans.
A representative of the debt consolidation company will assess your financial situation and your capacity to repay back the unsecured debt loan. The representative will then negotiate with the creditors to see if they can reduce the balance of your loan amount and the rates of interests available based on the market and your credit worthiness at the time of application.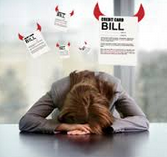 An unsecured debt loan best fits a person that has no assets to offer as collateral and also has a poor credit rating. Even though you must realize that unsecured debt loans have higher interest rates than the secured type, the monthly installments paid can be low to fit your income level.
By promptly paying down on an unsecured debt loan, (keeping up with your payments) your bad credit rating can then begin to show improvement. Do not make the mistake that some borrowers believe since the unsecured debt loan is not tied to personal assets or property, that the lenders cannot take any legal action against them in case they default on the repayment of the loan.
However, if the borrower does not repay the loan as agreed, he or she can be taken to court where a judge will decide what type of action is to be taken whether you have acquired any assets during the load period or anytime after.